Welcome to our school's new FACTS Family Custom App! Family Portal features are available to parents and students who have FACTS login credentials. Follow these steps to log in:
Click on a Family Portal feature (e.g.: Gradebook, Directory, or Homework).
This window will open: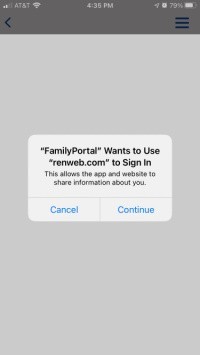 Click Continue.
This window will open:
Enter your FACTS login credentials (ICCS-LA, username, and password) and click Login.
The feature will open.
The app keeps parents and students logged in to all Family Portal features for 30 days. After that, login credentials have to be entered again.
Instructions for Creating a FACTS Family Portal Login (if you don't already have one):
Please go to www.factsmgt.com.
Select Parent Log in from the menu bar and FACTS Family Portal from the drop-down menu.
After the FACTS Family Portal Login screen opens, please select Create New Family Portal Account.
Enter the school's district code in the District Code field. The ICCS District Code is "ICCS-LA"
Enter in the Email field your email address of record with the school.
Click the Create Account button.
You will receive an email from FACTS SIS Customer Support containing a link that will allow you to create your username and password. For security purposes, the link will remain active for 6 hours.
Please click on the link. A Change/Create Password screen will open. You may use the default username provided, or create a new username. Then type in your desired password into the Password field and Confirm Field.
Click on the Save Username and/or Password button.
Close the window.
You may now log into the Family Portal features of the app as instructed above. (You may also log into FACTS Family Portal in a browser.)